On January 20th, 2017, (12:30h), at the House of the Romanian Academy in Bucharest, took place the  General Assembly of the CLDR Romania – "Local Communities along the Danube River" Association.
The General Coordinator of the Council of Danube Cities and Regions (CoDCR), Mr. Peter LANGER, attended the meeting as Special Honorary Guest.
In his introductory message, Mr Peter LANGER made an overview of the achievements so far relating to the EUSDR and suggested short ways to enhance cooperation between partners and focus on a few major goals envisaged by the European Commission and CoDCR.
In this regard, the General Coordinator of CoDCR announced that negotiations are underway to support certain energy infrastructure projects, in particular, and of cultural tourism and preservation of cultural and historical heritage in the Danube states. Finally, he invited the representatives of CLDR Romania to the forthcoming meeting of the Executive Committee of the Council of Danube Cities and Regions (Ulm, 26 to 27 April 2017).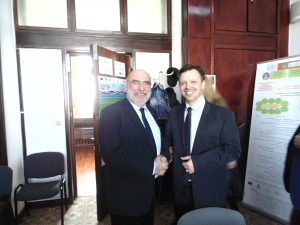 After the deployment of the General Assembly, Mr. Peter LANGER congratulated the new Executive Board of CLDR, especially the new President, Mr. Viorel IONESCU, Mayor of Harsova and wished a lot of success for the year 2017.
Mr. Peter LANGER also attended the short ceremony of awarding the most pro-active organisations, partners and persons with the Title and Diploma of Excellence "Romanian Champion in the Danube Region", by the EUSDR International Honorary Chair "Jean Bart"(CIO-SUERD), coordinated by EUROLINK-House of Europe in partnership with the Romanian Academy.